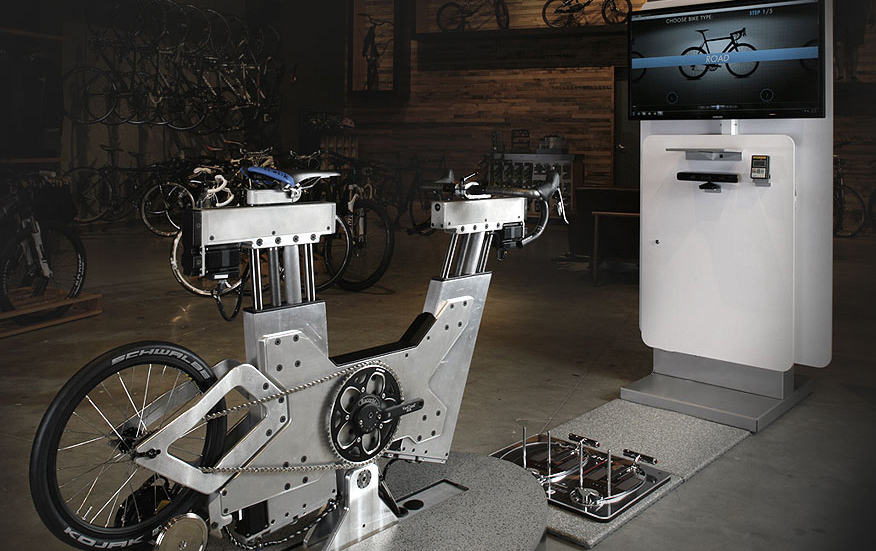 Guru Bike Fit System
Are you unsure where to begin your hunt for a new bike, or are you happy with the bike you have but unhappy with your fit? Speed, endurance, performance, fit, agility — there are so many factors that go into finding that sweet spot when cycling. A bicycle fitting can help maximize your comfort and efficiency on any bike, regardless of where you bought it or what it is being used for. Using the GURU Fit System and it's precision-based approach, along with the instant feedback it delivers, you'll get what you need based on your individual riding style and needs.
Component Fit $60
Time: about 30 min
The Component Fit is the place to start if you have a bike you love, but you want to make a change to the touch points of your ride — the seat, the cockpit, or the pedal. Using the GURU, we can try out a variety of options to help make you comfortable on the bike, interchanging parts, such as seats, stems, handlebars, shifter and brake combinations, pedals, or cranks and then transfer the adjustments and products you prefer to your bike.
Bike Finder $100
Time: about 1 hour
These days, there are too many styles and brands of bikes out there to choose from. We can help you narrow the field to choices that will best serve your riding goals and your fit. With our Bike Finder service, our experienced technicians can turn your ideas about how and where you want to ride into specific recommendations about the best style and model of bike to consider.
Using the GURU Dynamic Fit Unit you can try any model, from any manufacturer, in any size — saving hours of research and visits to different shops. You can literally test any bike on the market in one stop! This is an ideal way to try out what you think you might like before you buy it.
If you decide to buy a bike from Sidecountry Sports, the Bike Finder service fee is credited toward your purchase.
Optimized Fit $150
Time: about 2 hours
Every rider wants their time on a bike to be enjoyable, comfortable and efficient, regardless of their level of fitness or riding goals. Whether you have never been quite comfortable on a bike you love or you are looking for a performance enhancement on a new bike, an Optimized Fit is perfect to help you meet and track your progress towards your goals. The Optimized Fit will look at nearly every aspect of how your bike is working for you: seat choice and position, cockpit arrangement, crank length, pedal alignment, and more.
Using the Range of Right system, we can make sure that every adjustment is not only an improvement in comfort but also a verifiable improvement in posture and efficiency. You will be able to see your progress every step of the way.
Fit is dynamic; as your fitness level changes, your goals also change. Our technicians can create a GURU Fit profile that is tailored toward an individual rider's immediate goals and keeps track of progress made toward your ideal fit. With the rider profile, we can optimize your riding position, comfort etc. by adjusting components and swapping out parts. You'll receive an individual detailed fit profile to take with you as well as 12 months of refitting included so that you can reach your training/riding goals.
Gearworks Fit: A new bike, customized for you, and maintained as long as its yours = $250
Time = Varies depending on bicycle model selected and availability
Are you ready for a brand new bike that fits your precise needs? Start off with a Bike Finder session to determine which bike is right for you and to make sure it will fit - exactly to your standards. You choose the bike — whether it is a bike we have in stock, available to order from one of our trusted brands, or from a brand we do not carry — as long as you are happy with the fit.
Next, the professional team at Sidecountry Sports will assemble your new bike to the fit profile and plan we have developed to achieve your goals and your optimized fit. We will install any parts necessary, adjust cockpit and seat position, test ride and safety check the bicycle for delivery. Your bike will fit the first time you pedal it out the door, and that fit will be guaranteed for 12 months.
What's more, you'll automatically be enrolled in our Gearworks Rewards Program, which includes one free tune within the first year from purchase date, half-price tunes for as long as you're riding your bike, a free water bottle and cage, a 10% rebate on 3 or more accessories on the day you bring your new bike home, and exclusive offers and invitations from Sidecountry Sports.