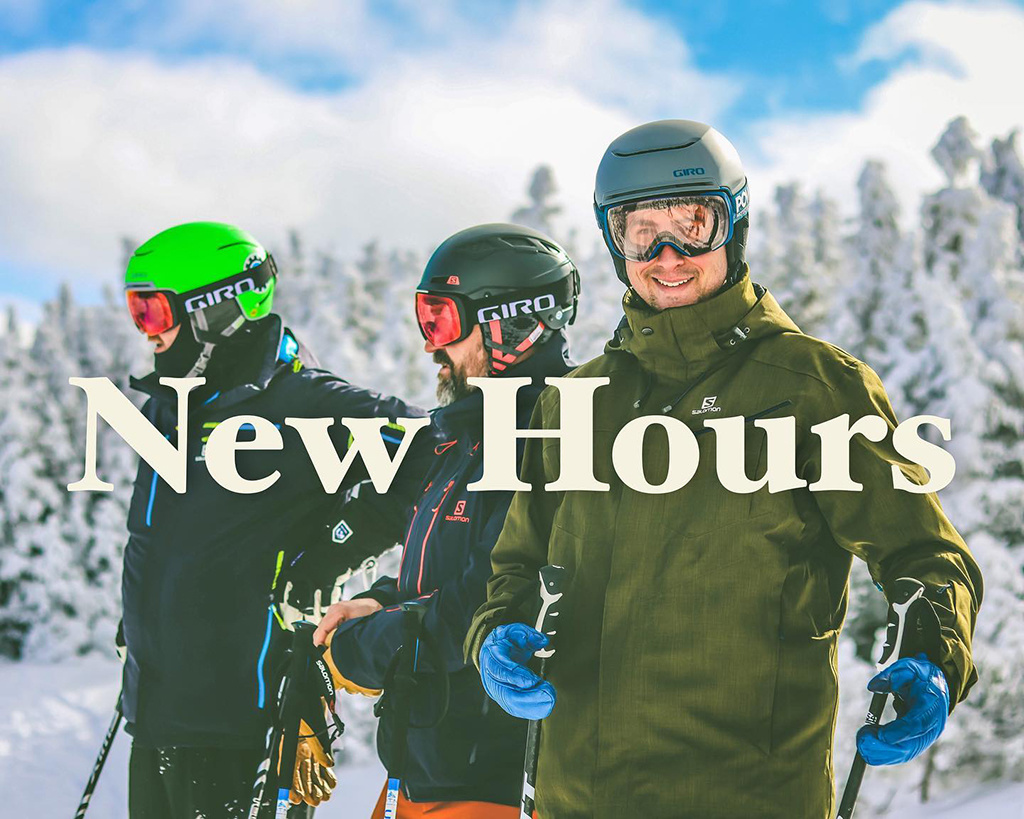 We're Open By Appointment
Click here to make an appointment
Sunday Closed
Monday 10am - 6pm
Tuesday 10am - 6pm
Wednesday 10am - 6pm
Thursday 10am - 6pm
Friday 10am - 6pm
Saturday 10am - 6pm
Trailside shop at the Camden Snow Bowl
Monday - Tuesday Closed
Wednesday - Friday 12pm - 1pm
Saturday - Sunday 9am - 4pm
If the lifts are running we are open. No appointment is necessary at Trailside, but we do ask that only one person at a time (or one adult and one child) is in the shop at a time. Thank you for your patience as we all work to keep our community healthy.
To Our Fellow Riders,
In light of recent announcements from the Maine CDC and the continued spread of COVID-19, we wanted to let you know what we are doing at Sidecountry Sports to help our customers and our staff stay safe.
Sidecountry Sports shop will be open by appointment only to help limit interactions among individuals. Our goal is to reduce the spread of this virus while we continue to support you in pursuing a healthy, active lifestyle.
You can schedule an appointment for either sales or service during our normal business hours between 10:00am - 6:00pm. We ask that you please call ahead so that we can best serve everyone in an orderly fashion.

You can still drop items off to be serviced. If you'd like to drop items off please give us a call (207-701-5100) and we'll walk you through where to put them outside the shop.

During this time, our staff will be on hand to answer your phone calls and online inquiries, as well as continuing to service bikes and skis. We are currently working on a bit of renovation too!

We will post updates and changes to our plan as more information becomes available. Please take care of yourself and your family over the next few weeks and please reach out if we can help during this unusual time.

Be well,
Sidecountry Sports
Immediate Plan
GIVE US A CALL
We're here and happy to help with sales and service questions over the phone. (207) 701-5100
PRIVATE APPOINTMENTS
If you would like to schedule an appointment for assistance with sales or service, please click here to schedule so we can provide individual attention. (207) 701-5100.

CURBSIDE PICKUP
You can shop for and purchase items online here and pick them up from the shop. Just select curbside pickup at checkout and give us a call (207-701-5100) when you're on your way and we'll have them ready for you.
ONLINE WEBSTORE
Many of our products are available via the website, so whether you're looking for new equipment or want to support your local mechanics by purchasing a Gift Card, you can visit us online.

SEASON LEASE
Appointments are required, find more information and book your appointment here.

To help deter the spread of COVID-19, we have taken the following steps in the store: 
In addition to our regular cleaning routine, we are sanitizing our door handles, countertops, credit card terminals, and other public surfaces every 90 minutes. 
Our staff is being asked to stay home if experiencing any symptoms of illness, or if family members become symptomatic or ill. 
Our staff is practicing frequent hand-washing and/or use of hand sanitizer.
Our staff will wear protective gloves when working on customers equipment, for example, when we are checking bikes in for service, working on ski boots, or helping install accessories. 
All bikes and equipment being serviced will be sanitized before being worked on and again before being returned.
All payments will be taken via phone.