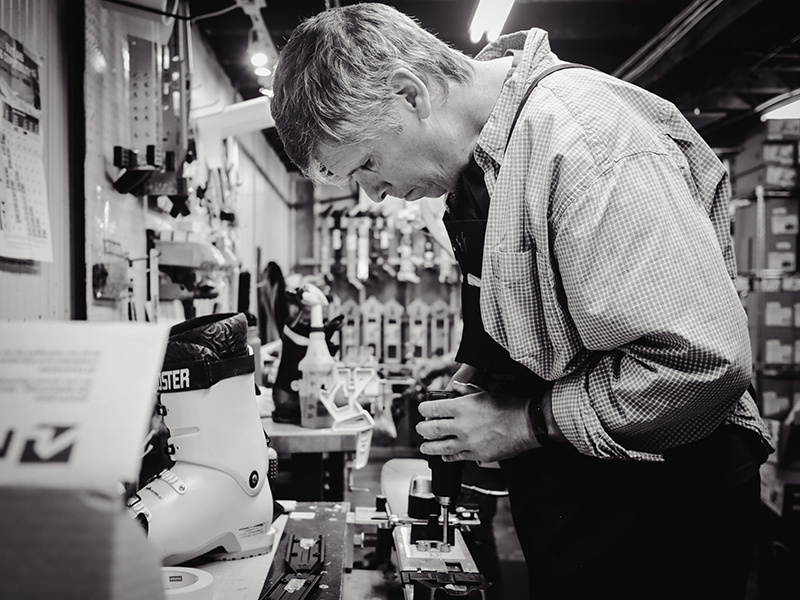 At Sidecountry Sports, we know a good tune can make or break a day of riding. We have partnered with Montana to provide the best on snow experience for your ski or board. All of our tunes, starting at only $40, make use of the best technology currently available to make your equipment perform just as well, if not better, than the day you first put it on snow. 
Skis and snowboards need to be tuned in 4 phases.  
First, the base needs to be prepared. Using our Crystal S/R stone grinding machine, bases are flattened and prepared to create a fiber free, completely smooth and perfectly structured base.
Secondly, side edges need to be prepared. Using our Crystal Edge robot, your equipment will be set to the optimal side edge bevel, with a smooth, blemish free finish for a long lasting sharp edge. Our Signature Tune provides an industry standard 2° side edge bevel to help your equipment give you precise control in any snow conditions. Want a different side edge bevel? Our Signature Plus and Signature Premium tune allow you to choose the perfect side edge angle for the type of edge hold and response you prefer.
Then, base edges need to be prepared. The Crystal Edge robot uses radial tuning technology to implement the perfect base edge angle for your equipment, using ceramic discs to provide a highly precise finish. The wider the ski or snowboard, the greater the base bevel at the tip and tail, making turn entry and exit effortless and giving your gear a smooth, hook free ride. Underfoot, the Crystal Edge leaves more edge grip where it counts. 
Lastly, skis need to be waxed to glide well in changing conditions. For all of our tunes, we feature Dominator all temperature performance waxes. They work reliably in all snow types and temperatures, and hold up to even the hardest, most granular man made snow. Upgrade to our Signature Plus for Dominator Zoom hand applied and brushed. If you really want to keep your equipment sliding fast upgrade to Signature Premium for a coat of deep penetrating conditioning wax, followed by an all temperature low fluoro wax for ultimate glide.
Racing in a league that has banned Fluoro's? No problem. We stock a full compliment of temperature specific Swix No Fluoro products as well. 
For those riders looking for the ultimate performance, we offer DPS Phantom permanent glide base treatment as an add on to any of our tunes for $150. Phantom is a safe, low environmental impact base conditioning treatment that penetrates the base of the ski or snowboard, providing endless days of worry free glide.
Signature Tune: $60
Signature Plus Tune: $100
Signature Premium Tune: $120
Drill Mount and Function Test: $100
Drill Mount and Function Test (gear purchased here): $45
Snowboard Mount: $20
Function Test: $35
Machine Wax: $10
Iron on Wax: $20